Gathering data, viewing it real-time, and analyzing to understand more about whatever it is that you are working on has never been easier.
Today, we have come far from those heavy, bulky oscilloscopes that were hard to carry around, if not impossible, to something that we call USB oscilloscopes.
And, since you're here looking for a best USB oscilloscope, you probably know all about what it is and how it works. Even if you don't, we're going to break down the features of different models that we think would be good for anyone.
Speaking of them, let's find out what are the best PC Based Oscilloscopes you can get right now, shall we?
Best USB Oscilloscope Comparison 2021
Last update on 2021-06-01 / Affiliate links / Images from Amazon Product Advertising API
Top 5 Best USB Oscilloscope( PC Based) Review
Some of you may be completely new to the entire idea of USB oscilloscopes, while some of you may already be using one of your own and are just looking for a better replacement or even an upgrade. Whatever it is, we have gathered the ones we found reliable.
1. Hantek HT6022BE20Mhz 6022be
USB oscilloscopes have allowed us to diagnose data at a much lower price and use it almost everywhere with the freedom of carrying it around with us.
At an extremely cost-effective price, this hantek USB oscilloscope allows you to view data in real-time with the help of a USB 2.0 connection.
Being one of the best pc based oscilloscope, it has a small size (200 (L) x100 (W) x35 (H)) and weighs only 1.54 pounds, making it easy to carry around.
You no longer need a power source, as the device is completely powered by the USB connection making it much more portable.
Moreover, having a real-time sampling rate of 48MSa/s and two channels of 20MhzShot bandwidth, it makes transferring and viewing data a lot more accurate and faster.
You can view a great range of data, while also keeping track of even the smallest details as the device comes with an accuracy of ±3% and a time base ranging from 1 nanosecond to 9000 seconds.
Unfortunately, the software that it comes with is poorly written and limits most of what this device can do as well as limiting the device to Windows 7.
However, having more than enough support software from the community, you can just download the latest software available, and uncover all that this device has to offer.
Lastly, coming packaged along with two probes, it allows you to start working as soon as you take it out of the box.
Buy on Amazon
2. SainSmart DSO212 Pocket Size Portable Handheld Mini Digital Storage
Coming with a display of its own, this oscilloscope from SainSmart gives a new definition to being portable for USB oscilloscopes.
Although it is not completely a PC based oscilloscope, it can still be connected to a PC for transferring and further analyzing the data, thanks to the micro USB port on the device.

The TFT LCD color display on it has a resolution of 320 x 240 while being 2.8″ on either side. This makes it small enough to fit in your pocket but big enough to see clearly.
And although it's covered with an aluminum alloy finish making it more durable, it weighs only 90g, providing you with perhaps one of the most portable oscilloscopes ever.
Packing more than one would expect in a device so small, SainSmart has even provided a built-in 8MB flash storage – saving and transferring data on the screen just got easier.
And, to make it as easy to use, it operates with simple taps and swipes just like any smartphone with additional tap and wheel buttons.
On top of all of that, the device has a sampling rate of 10 MSa/s along with an analog bandwidth of 1 MHz, making the recording and analyzing of data accurate and easier.
This is all possible at the ease of something you can hold in the palm of your hand.
At a really low cost, this device also comes packed with a 2-channel functionality and an open-source application layer that you may customize to your own needs.
Buy on Amazon
3. Analog Discovery 2: 100MS/s USB Oscilloscope
If you wanted a USB oscilloscope with an incredible software design besides that intricate hardware design, then the Analog Discovery 2 from the company Diligent is just the perfect device for you.
From 2 Analog inputs to 16 different channel logic analyzers, this device packs in a lot more into something that weighs only 5.6 ounces.
And, despite having 16-channel logic analyzers and pattern generators, the device still packs in a stereo audio amplifier to drive external headphones or speakers with AWG signals.
Moreover, consisting of a 2-channel Arbitrary Waveform generator as well as a 2-channel Network analyzer, the device can analyze frequency data ranging from 1Hz to 10MHz.

However, the device being a bit more expensive than the others in this review it may not be what most people would get as their starting USB oscilloscope. But, for those who are looking for an upgrade, this might just be perfect for you.
Having great software, with features being actively added to it, you can make the most of this device – putting to test the 2-channel data logger, Spectrum analyzer, and the impedance analyzer.
Moreover, the software is Mac, Windows, and Linux compatible, and the device is completely powered by the USB connection.
Additionally, despite being so portable, the device still packs in two programmable power supplies to link multiple instruments and maintains a high sampling rate of 100MS/s, along with bandwidth beyond 30MHz.
Buy on Amazon
4. Hantek 1008C PC USB 8CH Automotive Diagnostic
In this hantek USB oscilloscope review, we look into a device that is a truly astonishing USB oscilloscope kit.
With up to 8 channels for vehicle testing and over 80 types of automotive diagnostic functions, this takes USB oscilloscopes to a completely new level.
With a USB 2.0 interface, this device makes use of a 2.4MSa/s sampling rate. Although lower than the previously discussed sampling rates, this is compensated by a high sensitivity on both the horizontal and vertical axis.
More specifically; 1ns/div to 20000s/div(1-2-5sequences) on the horizontal axis and a max input voltage of 400V on the vertical axis.
As for the Bandwidth, it ranges from 0-250kHz, allowing for a wide range of data to be analyzed.
It weighs about 1.39 pounds, which is understandable considering that it provides not only with eight different channels for data analyzing, but also provides the ability to record waveforms for a long period of time.
This is especially useful for people who want to carry out experiments for long, stretched out periods of time.
Although the stock firmware may seem to be incompatible with later versions of Windows, with a few instructions from the online community, you can install it with some effort on Windows 10.
And to make it even better, the device, along with its software, allows you to stimulate camshaft and crankshaft signals.
Additionally, with automotive functions such as Ignition, Sensor, Bus detection, Performer, Starter and charging circuits, and many more, there are also videos available online.
These videos will of great help for anyone who has trouble operating the software. Now, this is a great deal for something that sits on the lower end of the price spectrum.
Buy on Amazon
5. SainSmart DSO211
Without costing you too much, this device from SainSmart allows you to measure and analyze data without losing too much of the accuracy while also being able to fit perfectly inside your pockets.
The device comes with a micro USB port that you can easily use for file transfer, as well as recharging the 500Mah battery inserted inside.
Adding to that, a micro SD card can be inserted into the device to save screenshots and scope traces for later, further diagnosis.
Not having to worry about carrying your laptop everywhere with you, or taking up too much of your workspace, this device works perfectly without the need of a PC, thanks to the already built-in 2.8-inch full-color LCD display.
It's rich color and vividness allows you to make the most of the data displayed on the screen with a resolution of 320 × 240.
However, the device is limited to a sampling rate of 1MSa/s unlike its successor but still retains the sensitivity with 20mv/Div~10V/Div (1-2-5sequence step) on the vertical axis and 1uS/Div~2S/Div (1-2-5sequence step) on the horizontal axis as well as the use of buttons for operation.
And while the stock firmware isn't really useful, BenF firmware, which can be found from the global online community, may be used instead which makes up for it.
Considering it only weighs about 65g and still packs an Analog bandwidth of 200 kHz along with the built-in feature of saving images and waveforms, it is a great deal for its price.
And to still keep it truly portable, even without the micro SD card, the oscilloscope comes with a built-in 8MB storage for saving data.
What to Look for in a USB Oscilloscope?
Now for those of you who may be new to the realm of USB oscilloscopes or even the world of oscilloscopes, we have gathered a number of things you need to keep in mind when you're looking to buy a USB oscilloscope.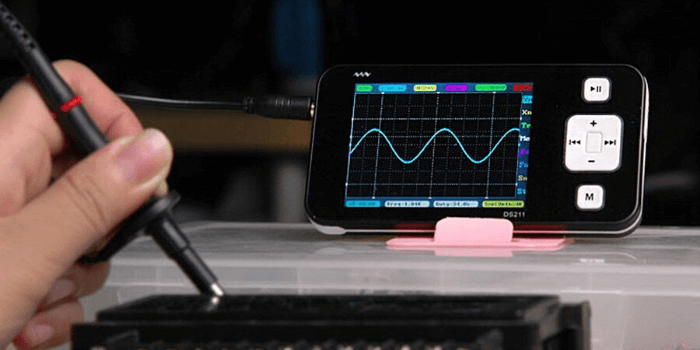 The Sampling Rate
This is the regularity with which an oscilloscope shows the waveform elements. In other words, this is what defines how detailed the information you can see will be, and with how much accuracy the oscilloscope will process information.
Similar to the frame rate of a camera, the higher the sampling rate, the more detailed the data will be, allowing you to capture even the smallest changes in the waveform.
So, when you're looking for an oscilloscope, make sure to pay attention to the sampling rate, from the minimum sampling rate to the maximum.
While a high sampling rate has its benefits, a minimum sampling rate needs to be known too, in case, you need to analyze signals that change gradually over long periods of time.
And as a side tip, you can use the rule of five, making sure that the sampling rate of the oscilloscope is at least five times that of the peak frequency of whatever you're working on.
Bandwidth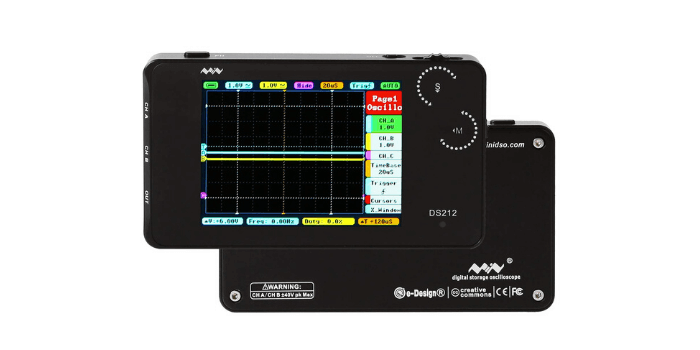 Depending on the type of application for your oscilloscope, you'll need to keep an eye on the bandwidth range because it determines the capability of the oscilloscope to display the signal accurately.
As the frequency of a signal increases, the capability of the oscilloscope to measure the signal accurately decreases.
And so, the greater the bandwidth range, the higher frequencies you can analyze.
Therefore, similarly to the sampling rate, you may use the rule of five to make sure that the oscilloscope's bandwidth is large enough to measure at least five times the bandwidth that may be required for measurement.
This could also help you to find out the decisive fifth harmonic and, thus, in determining the shape of the signal.
Memory Capacity
While you're looking at the features of an oscilloscope you intend to buy, be sure to keep an eye on the memory capacity it has, for even if it has a fast sampling rate, that just means it'll consume greater memory while recording signals.
Thus, you should make sure the oscilloscope has enough memory capacity for your required signal recording.
The Probes
These are basically the very devices that allow the oscilloscope to take accurate measurements.
And without them, even an oscilloscope with a very high sampling rate as well as a large bandwidth wouldn't be of any use.
However, that doesn't mean that just any probe could be used with an oscilloscope.
You need to make sure that all the connected probes are of the same grade and synchronized with both the sampling rate as well as the bandwidth.
This is to give you the best results the oscilloscope could possibly get.
Number of Input Channels
The number of channels that an oscilloscope holds is what determines how much data it can process and what plays such a big part in the pricing.
Keeping in mind your own budget, make sure to see whether the oscilloscope you intend to buy has a sufficient number of channels to allow you executing tasks you require the oscilloscope for.
Software
The software is the very thing without which the data collected would be inaccessible and very well meaningless.
It is what allows us to analyze the data while making countless calculations within a few fractions of a second, and keeping that in mind, we need to make sure that the software is effective and easy-to-use.
What we mean by that is that the software must be able to display data clearly and be compatible with the operating system of your PC while also having ample speed and an easy to use navigation.
How Does USB Oscilloscopes Work?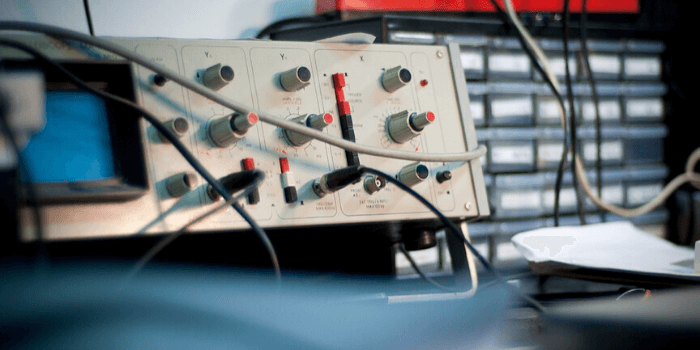 We use USB oscilloscopes for displaying and analyzing numerous forms of signals as waveforms to better understand them.
They allow us to design, troubleshoot, test, repair, or analyze any form of data. But how exactly do they do that?
Collecting Data
USB oscilloscopes take in various forms of properties of a waveform based on the signal that is received on the probes connected to any piece of equipment that we intend to analyze.
These properties range from the frequency, time interval, amplitude, distortion, and a lot of others.
Taking in through the probes into the USB oscilloscopes, these are then processed and sent to the PC through the USB connection.
Moreover, they can also convert vibration and sound signals to electrical signals, which can then be easily displayed on the screen of your PC, or on the built-in screen for some oscilloscopes.
Power and Processing
As we come to the world of these PC based USB oscilloscopes, we no longer need to worry about power.
The oscilloscopes are powered directly by your PC through the USB connection.
Additionally, as these oscilloscopes are powered completely by the computers they're connected to, they also completely utilize the processing power available on these laptops and computers.
And, considering the processing power presented to us on these computers at this day and age, they rival that of their benchtop partners at a lower cost.
Data Transfer
Furthermore, thanks to the USB 2.0 connections, we can also transfer data at an astounding rate.
You can immediately capture and save waveforms on to the computer where we potentially have an abundance of space, considering the number of external storage devices you may use.
Software
Finally, they all come with the software of their own, which is essentially designed to access and customize your data as you deem fit.
The software takes in the electrical signals sent in by oscilloscopes and then processes and displays it on your screen.
FAQ's of USB Oscilloscopes
Does the sampled data stream to the PC so that changes are viewed in real-time?

The software processes the data and displays it on the screen with real-time updates from the oscilloscope, which is, however, limited by the USB transfer rate.
Will this work as a multimeter as well?

Yes, it will to a certain extent, but you're better off buying a separate multimeter.
Do you need to use the given CD to install the software?

Not necessarily, you may install it directly from the CD if your laptop or PC is compatible with it, or you could just visit their website for the device and download the appropriate software.
Do the scopes work with software for other scopes?

Different devices have different features in their different respective software. So, if the software of another scope is compatible with the device, it may be used.
Can oscilloscopes be used to tune car audio amplifiers?

Yes, they may be used for tuning car audio amplifiers, depending on the capabilities of a certain
oscilloscope.
Conclusion
The devices we have seen here are some of the best USB oscilloscopes you can find on the market. And now you know what to look out for when you're out to buy an oscilloscope.

So, go out there and get yourself the best you can get yourself, but keep in mind that what you choose truly depends on the work you intend to do with it.